Spend the night in your own lodge in Tanzania at the top of a hill. Because of this unique location you will experience breathtaking views over Lake Manyara, Oldonyo Lengay, Ngorongoro Crater Edge and Rift Valley.
Location lodge

The plot of land in Tanzania was purchased in 2005 and is situated near Lake Manyara. The land is purchased from a Maasai named Liomol Kipailele, which is also your hiking guide at the Lodge. The Lodge is located in Maasai country, if you drive from the main road to Morona Lodge you can see the lodges from far. Before you reach the destination, you pass five bombas, the beads where the Maasai lives.
Views
The land is 52 hectares, the place where the Lodge is built is on a rolling hill which gives a breathtaking view of Lake Manyara and Rift Valley on the front and side. The rear of the hill gives a beautiful view of Mount Oldonyo Lengay.

OldonyoLengay is a Maasai word which means "the mountain of God". This mountain still spits lava.
The Ngorongoro Crater Edge can be seen in the distance. Due to the location of the lodge on the hill, the views spread over no less than one hundred kilometers!
History purchase and construction
The land was purchased with the aim of building their own lodges, which unfortunately took much more time than was originally intended. The reason for this was that the authorities in Tanzania did not cooperate, so obtaining the right permits took seven years.
On December 1, 2013, we could finally start building the lodge. The construction was finally completed in July 2015 and we welcomed our first guests on July 28, 2015. All the providers have been installed by ourselves. This includes the water supply to the septic tanks and a power supply that is generated by solar panels. In case the power should fail, an extra generator is available.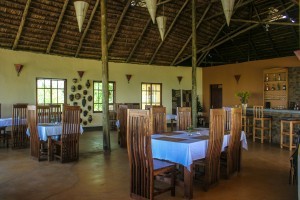 The lodges currently include a restaurant with bar, a swimming pool with jacuzzi. The lodges are spacious and each lodge has its own private bathroom with outdoor shower and a large veranda from where you can enjoy the breathtaking views.
Wildlife
Due to the special location of our lodges in Tanzania, you can watch zebras, giraffes, impalas and other wildlife from the lodges. There is also a wide variety of birds to watch. During the night you can hear the hyenas crying!
Karibu sana!
You are welcome!